Follow these steps to become a successful
  Neighborhood Sponsor:
#1 Claim your free Business Page and complete your profile
If you haven't already claimed your business on Nextdoor, head here to do so. 
Create your business account or use a pre-existing neighbor account (see tip below) 
Confirm your business name, location, and contact information 
Select the categories that describe your business or service (choose up to 10)
Click "Create Page"
TIP: You can also link your Business Page with your existing neighbor account if you'd like to share login credentials. This means that all notification emails from both accounts will be sent to the same email address and that you can easily switch between your neighbor account to your business account.

If others will help you manage your business presence, we suggest creating a separate business account. Be sure to sign out of your neighbor account before starting the business claim process. You can find additional tips to improve your Business Page here.

#2 Choose the ZIP codes where you want to run your ads and posts
Once you've created your Business Page, you'll be asked if you want to advertise on Nextdoor. 
NOTE: If you've already claimed your Business Page, head to the 'Sponsorships/Manage Plan tab to select ZIP codes you're interested in.
From here you'll be able to check on the availability and pricing of any ZIP codes you're interested in sponsoring. It is not required that you live in the ZIP code(s) in which you sponsor. For example, if you service areas beyond your business' physical location, you can choose to sponsor those ZIP codes as well. 
Once you've selected your ZIP codes, proceed to payment to complete your purchase and become a sponsor in those ZIP codes immediately. Keep in mind, if you purchase your sponsorship after the first of the month, Nextdoor will prorate the cost for the month. From there, you'll be charged the full amount on the first of the following month.


#3 Set up your ads
With a Neighborhood Sponsorship, you're able to run ads that make it easy to directly connect with your customers. These ads will be placed in the Nextdoor newsfeed – the most visible section where neighbors spend the most time. If you are a real estate agent, get more tailored tips in our Real Estate Agent Guide to Neighborhood Sponsorships.
There are two types of ad formats: Tips & Advice and Conversation Starters. 
Tips & Advice Ads: This ad format allows you to show off your expertise while showcasing how your business can help nearby neighbors. When you select Tips & Advice, you'll be taken to a list of different conversation options. Select which prompts you'd like to run and fill out your responses. You can also add your own prompts to make it more relevant to your business. Once you've selected your prompts, click 'Save.'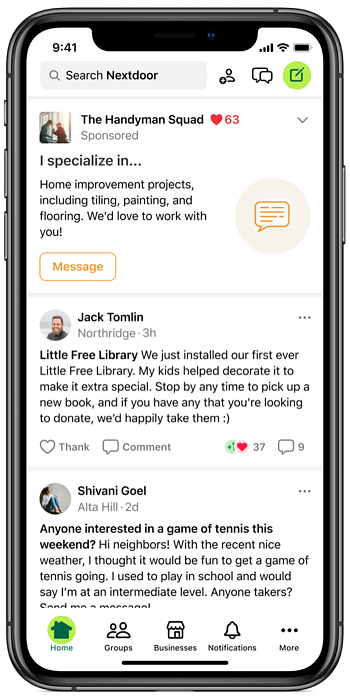 An example of a Tips & Advice ad
TIP: We recommend your responses be anywhere from 30-100 characters and that you enable 4-5 prompts so neighbors in the ZIP code(s) you're sponsoring see a variety of ads.
Conversation Starters Ads: With this ad format, you can invite neighbors to engage with your business and it makes it easy for them to reach you. When you select Conversation Starter, you can choose from a variety of prompts that neighbors may be wondering about your business, or you can create your own. Once you've selected the prompts, click 'Save.' When your ads are running, neighbors will see up to 3 of those prompts at a time. They have the option to click on one, which will open up the chat window and your conversation will begin.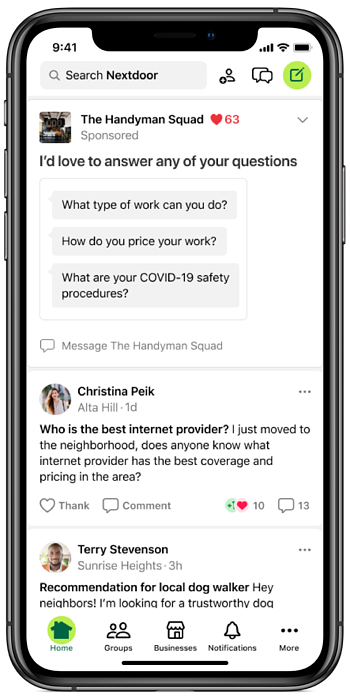 An example of a Conversations Starter ad
TIP: By default, Conversation Starters will run once you get started with your Sponsorship. To get the most out of your experience, you'll want to customize them so they are relevant to your business. The more you enable, the fresher your content will be to neighbors. This in turn can lead to higher engagement with your business.
NOTE: Make sure the information in your business profile is filled out. This info is used when your ads are displayed throughout the Newsfeed and in a weekly Email Digest sent to neighbors . To update your information, navigate to the 'Business Profile' tab to fill in all of the important details about your business, including your contact information, your company logo and/or headshot (which shows up in all of your Business Posts and ads), business hours, additional photos that represent you or your business, and anything about your business that you'd like neighbors to know. Make sure you also confirm the category of your business as this helps ensure your business appears in relevant search results.

#4 Use your two posts to your sponsored ZIP codes to engage with the community
As a sponsor, you receive two posts per calendar month, per sponsored ZIP code. And with a sponsorship, you unlock access to features like polls and events. These features give you more creative ways to drive engagement and discussion with nearby neighbors. Like ads, your posts will be displayed in the news feed of members within your sponsored ZIP codes. Neighbors can react (Like, Thank, etc.) and reply to your post to engage directly with your business.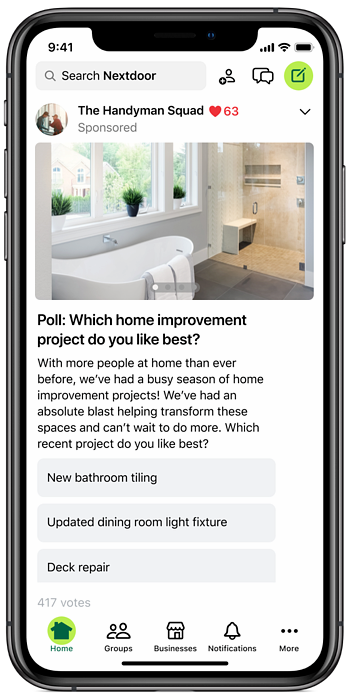 An example of a Business Post
TIP: Take advantage of the exposure your post gives your business by making sure you use all of them each month. Unused posts will not roll over to the next month. As a rule of thumb, share one post at the start of the month, and the other mid-month to stay top-of-mind within the community.

#5 Check your performance
Now that you have ads running and are using Business Posts to engage with neighbors, you'll want to learn what's resonating with neighbors and what isn't. Knowing this information will allow you to continue to post engaging content. Gain insights on your ad performance here and your post's performance here on your business dashboard. Your insights will show you what type of content works best for your business.


#6 Promptly respond to private messages and replies to your posts
To make sure you get the most out of your sponsorship, don't neglect your private messages and the comments on your posts. When neighbors engage with your business, they're showing interest and could potentially become new customers. Be sure to reply promptly – within two hours – to any questions left on your posts, or any private messages in your inbox. If their response doesn't need a reply, make sure to "thank" them for engaging. Responding, whether it's on your posts or direct messages, is also a good opportunity to showcase your customer service and build long-term trust and loyalty with your customers.
What's next? Give it time! By building a rapport with members of the local community, you will establish your brand and reputation, making you the first business that comes to mind when neighbors need your product or services.